The Personal Practice Summit
July 17, 2021

-

July 18, 2021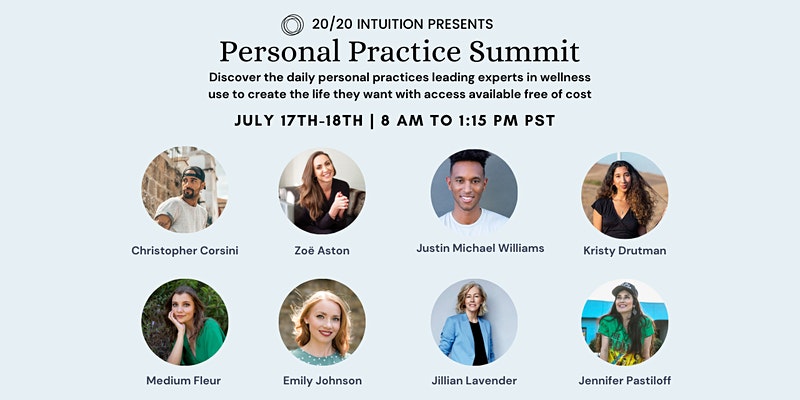 About this event
20/20 Intuition presents the Personal Practice Summit. Learn directly from the world's leading wellness experts for FREE from the comfort of your home.
The goal of the Personal Practice Summit is to transform theory into practical knowledge and answer the question: what is the expert's personal practice?
Teachers from across the mind, body, spirit community will come together to discuss the personal practices that allow them to thrive.
The workshops and panels will explore the many ways our experts have anchored themselves during these turbulent times. Together, they will give listeners practical new tips they can implement right away.
The summit will take place virtually via Zoom Saturday July 17th and Sunday 18th starting at 8 am PST (see the full schedule and time zone conversion below).
Each day will consist of 3-5 presentations, panels, and/or interviews. You must be registered to attend. If you are not able to attend live, the event will be recorded and available to view for free for 24 hours after the event has ended. MUST be registered to view! After the 24 hour period, it will then be available for purchase for a short period of time.
The Personal Practice Summit image
About our talented speakers:
The Personal Practice Summit image
Christopher Corsini
Christopher Corsini is an artist who pushes the boundaries of the way we look at inclusivity through energy clearings, new and full moon workshops, monthly tarot card coaching, and horoscopes. With over a decade works as an asijenglish interpreter, Chris works closely with both the hearing and Deaf communities to extend his work and provide spiritually insightful resources that are accessible to all communities.
His vision is to bring people together through community collaborations, spirituality and inclusive performance art. Music while bringing diversity, inclusion, and accessibility to the forefront of the discussion.
Chris's professional roster includes interpreting for Shawn Mendes, Jay-Z, Jonas Brothers, Panic! at the Disco, and Thomas Rhett. In 2020, he was commissioned by Elle Canada to create monthly electional astrology videos
Website | Instagram
The Personal Practice Summit image
Zoë Aston
Zoë is a London-based therapist, mental health consultant, speaker and author with over a decade's experience. She consults for businesses including global brands and private equity companies to help make looking after your mental health and building emotional resilience accessible and acceptable to all. Her private practice offers support for a range of emotional and psychological topics including, addiction, eating disorders, trauma, anxiety and relationship issues, through a dynamic, person-centered approach.
Her first paperback, Your Mental Health Workout – A 5 Week Programme to a Healthier, Happier Mind was released in 2021, and her work has been featured in The Times and Metro. Along with this, she's previously partnered with big brands such as Lululemon, Barrys, Microsoft, and more.
Website | Instagram
The Personal Practice Summit image
Justin Michael Williams
Justin is an author, transformational speaker, and top 20 recording artist who works at the intersection of social justice, mindfulness, and personal growth. He has been a keynote speaker at Google and Bloomberg, along with having shared stages with Deepak Chopra, and Chaka Khan.
With over a decade of teaching experience, Justin has become a pioneering voice of color for the new healing movement—between his podcast, keynotes, and motivational online platforms, Justin's teachings have now spread to more than 40 countries around the globe
Justin is dedicated to using his voice to serve. To being a beacon of hope for those who are lost, and to making sure all people, of all backgrounds, have access to the information they need to change their lives.
Website | Instagram
The Personal Practice Summit image
Medium Fleur
Fleur has been named one of the best mediums in Los Angeles. Her innate ability to directly communicate with loved ones "in spirit" has connected countless families from all around the world. She has become largely sought after in the entertainment industry; she's done readings for well-known A-list musicians, actors and politicians, including Grammy Nominated Artist Lana Del Rey who raved, "there are a handful of truly gifted mediums and clairvoyants in this world, Fleur is one of them."
Fleur's gift has been featured in numerous publications including, i-D, NME, The Daily Telegraph, VICE and The Sunday Times. In 2019, Fleur launched the 10 Minutes to Intuition Journal, a daily journal for a more intuitive life. More recently, she started the podcast Moving Beyond with Grief Therapist Claire Bidwell Smith. This July, her debut book Moving Beyond: Access Your Intuition, Psychic Ability and Spirit Connection will be available for purchase. Through inspirational and educational stories, Moving Beyond answers the questions that Fleur receives every day, taking the mystery out of mediumship.
Website | Instagram
The Personal Practice Summit image
Kristy Drutman
Kristy Drutman otherwise known as, "Brown Girl Green" is a Jew-Pina American environmental media host, speaker, activist, and digital media strategist.
Kristy is passionate about working at the intersections between media, diversity, and environmentalism. As a youth climate activist, Kristy has spoken in front of thousands as well as facilitated workshops centered around environmental media and storytelling in cities across the United States. She has also worked with youth from around the world to create collaborative, intersectional online media with the goal of creating conscious, culturally relevant content to engage audiences about proactive solution-building to the climate crisis. She's given talks at Standford University, MobilzeGreen, Bioneers, and TedX and hosts her own podcast "Brown Girl Green," where she interviews environmental leaders and advocates about diversity and inclusion as well as creative solutions for coping with the climate crisis
Website | Instagram
The Personal Practice Summit image
Jillian Lavender
Jillian Lavender has been teaching Vedic Meditation since 2003. As co-founder of London Meditation Centre and New York Meditation Center, she has helped thousands of people across the globe to transform their lives.
Alongside teaching meditation, Jillian speaks to groups about stress, well-being, and the impact of becoming more mindful in their daily lives. She is also an expert in Ayurveda and consults on health, diet, sleep, fertility and lifestyle. She delivers this ancient knowledge in an accessible and practical way. Jillian's first book, "Why Meditate? Because it Works." is due out in July 2021. A modern, trustworthy explanation of what meditation is, and most importantly, what it will do for you. She busts common myths and explains the science and benefits of meditation with a clear and easy approach. Her work has been featured internationally in The Wall Street Journal, The Guardian, The Telegraph, Financial Times, I-D, The Edit by Net-A-Porter, and more.
Website | Instagram
The Personal Practice Summit image
Emily Johnson
Emily Johnson launched the @ArthritisFoodie community in September 2018, after struggling with seronegative arthritis. She's written the ultimate guide to living well with arthritis and chronic pain.
After a five-year battle with the condition, Emily embarked on a journey of healing – with food, exercise, and healthy living – and now, in her debut book, she's sharing the tools to put us on the path to taking back control of our own bodies. Emily has a fierce determination to change our perceptions of what arthritis 'looks like'. In Beat Arthritis Naturally, she delves into a variety of topics to help you feel better and mange pain holistically. Coupling Emily's own experience with seronegative arthritis and backed-up expert advice from leading therapists, immunologists, nutritionists and rheumatologists, Beat Arthritis Naturally gives readers the confidence they deserve to live a healthier and happier life.
Website | Instagram
The Personal Practice Summit image
Jennifer Pastiloff
Jen Pastiloff is an author, public speaker, coach and creator of the Shame Loss movement and course. She is the best-selling author of "On Being Human." Cheryl Strayed, author of Wild, calls Pastiloff "a conduit of awakenings" and Kiese Laymon calls her a heart magician.
She has been featured on the cover of YOGA JOURNAL and in Good Morning America, Shape Magazine, New York Magazine, Health Magazine, and more. Jen is the founder of the literary website The Manifest-Station (with editor Angela Giles.) You can find her online yoga classes at Yogagirl.com and her weekly live chats on MINE'D as well as her podcast with Alicia Easter called "What Are You Bringing?"
She's deaf without her hearing aids and reads lips. She's currently working on her second book. You can book her for speaking through Lyceum Agency and private coaching or retreats through her website