Know Your Own Power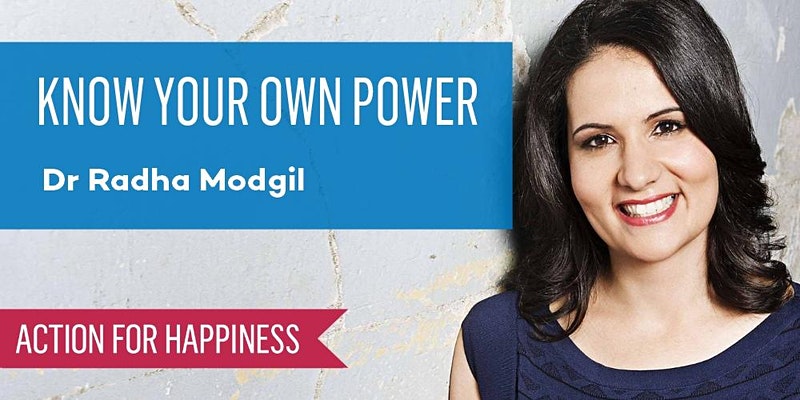 About this event
Do you have the power to decide how your story goes?
Life can be relentless, challenging and full of curveballs thrown at us. But through the difficult times, life also offers us the gift of discovering the power we have to choose our response. At this special event, the high-profile medical doctor and author Dr Radha will share an inspiring toolbox of advice to help us reframe the bad stuff, prevent overwhelm and learn how to step into our power and trust ourselves – so we can overcome difficulties and become more of who we truly are.
Dr Radha will guide us through her 3 stages of 'Getting Through', 'Stepping Up' and 'Moving Forward' and provide tools to help us make decisions and changes. She will remind us that we all have something beautiful, strong and determined inside of us. You can learn how to get through a crisis, step up to the challenge, move forward and change things for the better.
The event will take place on Zoom at 7pm London time (GMT).
To see the start time in your time zone, please click here.
About The Speaker
Dr Radha Modgil is a practising NHS GP, broadcaster & campaigner for wellbeing – educating in a creative and fun way, encouraging people to stay healthy. She contributes across a wide range of BBC shows and platforms, including as medical expert for BBC Radio 1's Life Hacks and presenter of Feeling Better on CBeebies. She has also appeared regularly on Channel 4, BBC Three, Channel 5 and reported on ITV's This Morning, BBC Breakfast, ITV Tonight and ITN News. She has also broadcast on BBC Radio 4 Woman's Hour, BBC Radio 2, BBC Radio 5 Live, BBC Asian Network, LBC and Radio 1's Newsbeat.
Dr Radha has a particular interest in young people's health & supporting parents, and has worked on campaigns with BBC Children in Need, Public Health England, MIND, British Heart Foundation, JDRF, The Mix And the NHS Youth Forum. Her new book Know Your Own Power: Inspiration, Motivation and Practical Tools For Life is published in early 2022 by Yellow Kite.
The event will be hosted by Dr Mark Williamson from Action for Happiness.