Inclusive hiring series: measuring what matters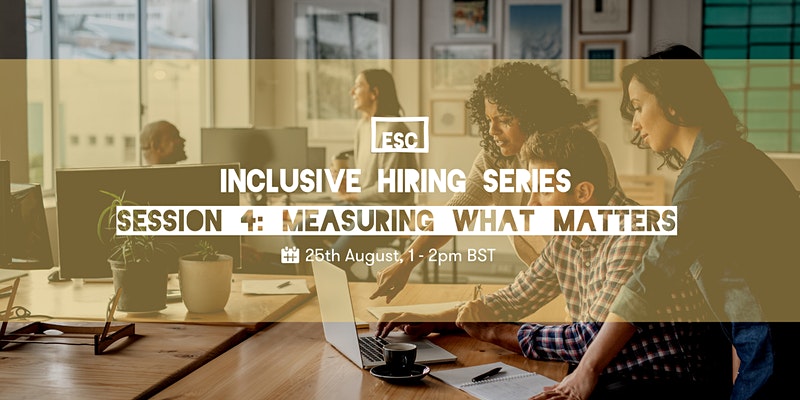 About this event
"What does not get measured cannot be fixed" – Iris Bohnet, author of What Works: Gender Equality By Design
While many organisations might measure how many applicants they get for a role to determine how successful their hiring round was, there are a whole host of crucial metrics that are often missed. Why does it matter? At the end of the day, hiring the right person is crucial to any business. The effectiveness and fit of a team to an organisation is critical and can make the difference between failure and success. And hiring is the pinch point where this all happens.
The issue is that most organisations don't know how well they're doing with hiring, how predictive of job success their process really is, or have enough evidence to convince their teams to make a change in the way things are done or the way costs are allocated.
In this session we'll discuss the metrics you should use at each stage of the recruitment process, some of the myths and pitfalls of the modern world of recruitment, some of the tactics that can help with hiring the best people, and crucially how to measure the effectiveness of any interventions you make in your hiring process.
About Escape the City
We're on a mission to help one million people to do work that matters to them and the world. Not just to find more fulfilling work but create it too. Online and offline we've seen first-hand the incredible power in connecting likeminded, motivated, passionate people with purposeful organisations.
Whether it's a small step or a brave leap, we've learned that amazing outcomes and inspiring change is best achieved together.
We want to wake people up to what work can really look like. To careers built on freedom, passion, autonomy, fulfilment, and purpose. To more connected and more meaningful lives. To 21st Century Careers and organisations, built on their terms, not someone else's.
We're doing it because we believe a million more people doing work that matters to them will change the world.